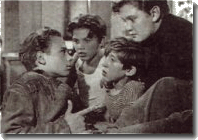 Born in Venice, Italy, Terence Hill knew he wanted to be an actor when he was four years old. His first chance to fulfill this dream came when he was twelve. Director Dino Risi chose him to play the gang leader in Holiday with a Gangster. This led to his being cast in many popular films such as Guaglione which brought him to the attention of the cinema-going public.
His first important film role was in Mauro Bolognini's The Golden Vein starring Richard Basehart and Marta Toren, in which he played Toren's son. Other credits during this period include Visconti's The Leopard, Pontecorvo's The Long Blue Road, Vittorio de Sica's Anne of Brooklyn in which he played opposite Gina Lollobrigida. After working with some of Italy's leading directors, Hill left for Germany where he spent three years, making over a dozen films.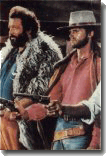 On his return to Italy, he began to achieve spectacular success throughout the world in a series of anti-hero westerns.
Terence Hill won fame, above all, thanks to the so called "spaghetti westerns" such as 1967, God forgives...I don't, Four gunmen of Ave Maria, 1968, Boot Hill, 1969, all three by Giuseppe Colizzi and the They call me Trinity, 1970 and 1971, Trinity is still my name! both directed by E. B. Clucher (Enzo Barboni).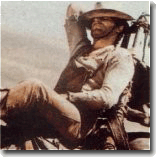 It is in these films that the well known partnership between Terence Hill and Bud Spencer is born based on a series of entertaining movies dealing in practical jokes, punch ups and fist fights such as in Giuseppe Colizzi's All the way boys, 1972, Marcello Fondato's Watch out we're mad, 1974, Franco Rossi's The two missionaries, 1974, E. B. Clucher's Two supercops, 1977, Sergio Corbucci's Odds and evens,1978,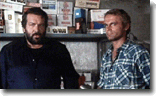 Italo Zingarelli's I'm for the hippopotamus, 1979, Sergio Corbucci's Who finds a friend finds a treasure, 1981, E. B. Clucher's Go for it!, 1983 and Double trouble, 1984, Bruno Corbucci's Miami cops, 1985. He has earnt a huge and unprecedented success at the box office (the two Trinity films alone were seen by more than 22 million people in Italy).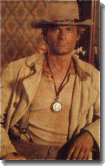 In 1973 he shot, alongside Henry Fonda and still in the Western genre, the film My name is Nobody produced by Sergio Leone and directed by Tonino Valerii.
In the following years Terence Hill gains success abroad and oftens stars in films produced in France, Germany, England and the United States: Mr. Billion, 1977, by Jonathan Kaplan; March or die, 1977, by Dick Richards; They call me Renegade, 1987, by E. B. Clucher.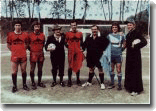 Don Camillo, 1983, is his directing debut.
In 1992 in Santa Fe, he creates the television series, in episodes Lucky Luke in which he portrays the well known cowboy made famous through the comic strips by the French writers Morris e Goscinny. The film Lucky Luke, which Hill also directs, is the pilot of a two hour television series, it gains enormous success in the cinema theatres of France and Germany.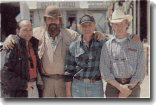 In 1994 he joins forces once again with Bud Spencer in the film Troublemakers, he also directs this film and in 1997 he shoots the film Virtual Weapon in America.
From 2000 he stars in the Italian series Don Matteo, which is now in it's fourth season.