«I'm continuing with don Matteo
because he has faith and dignity»
THE ACTOR SPEAKS
Terence Hill: «I really love this character, besides he resembles me very much. If I'm believable as a priest it's because of certain unorthodox choices I've made in the past »
By Tiziana Lupi

It's enough to look into Terence Hill's eyes to understand how wrong the voices were that were circulating some time ago, about his intention to stop with Don Matteo: «I love don Matteo» " he says, announcing to Avvenire his decision to continue to wear the tunic of the friendly priest-detective. And his eyes shine when he reveals that he proposed «to Lux and the Rai, in the style of Lieutenant Columbo, to make films for television with Don Matteo that would, unlike a long TV series, allow the character to be not over-exposed and to dig dipper into the emotional area». For the moment, filming of Don Matteo 5 (produced by Lux Vide for Rai Fiction) will begin in June, as always in Gubbio and they will last roughly eight months. The 24 new episodes (shown over 12 evenings) should be on Raiuno, in Spring of 2006. Meanwhile, from Monday through Friday at 14.30 the series is being re-aired on Sat 2000, the satellite channel for Catholic Italians.
Terence Hill, who is don Matteo?
He's a priest who doesn't judge and who doesn't even want to when he comes in contact with people who've made mistakes. The roots are those of Father Brown,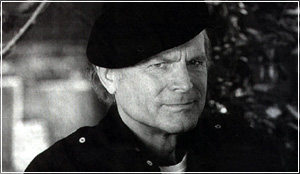 Terence Hill as the popular Don Matteo. The actor is about to film the fifth season of the series of the successful series for Lux Vide, that will air on Raiuno in the Spring of 2006.

the priest-detective born from the pen of Chesterton, who knew the human soul better than the police.
How to you explain the extraordinary success and longevity of Don Matteo?
The credit is not only mine, it's all the team that works so well together. There are lots of characters that make the series rich, and who are loved by the public: Frassica, Insinna (playing Maresciallo Cecchini and Captain Anceschi, ed.), the mayor and the characters who live in the rectory.
Besides the cast, however, the main reason for the success of Don Matteo is don Matteo
I think that don Matteo is believable. Actually, that he's wonderfully believable because he's someone who not only doesn't judge, but he smiles, jokes, and has a good sense of humor. He's a clever man, who gets involved, and in some ways, recalls a bit what Bud Spencer did in films thirty years ago. And then he says sensible things, that I agree with. But he does it all in such a way as to reach everyone, even those far from him.
A big responsibility for don Matteo. And, naturally, for Terence Hill who plays him. Do you believe in God?
Yes. I'm a practicing Catholic. I don't say that very often, because one's faith is a precious thing and extremely personal. The less said the better. As for the responsibility, I must say that I enjoy it. In the past, especially when I was living in America, I made certain professional choices that many thought were silly. I turned down lots of money but I was happy because the mothers stopped me in the streets to tell me: «Continue as you're doing, at least we can take our children to the cinema without fear of ugly surprises». And it's due to those decision that today I can play Don Matteo and be believable.
What's in the future for you, besides Don Matteo 5?
L'uomo che sognava con le aquile (The Man Who Dreamed With the Eagles), uit's a film in two parts, inspired by a true story of a farmer who the E.U. forbid the production of a cheese that his family had made for generations. With perseverance he managed to obtain a Marchio D.O.P. (Registered Trademark) and can now continue with the production. He's someone that I liked immediately: he's stubborn, defends traditions, and is basically, a genuine human being.